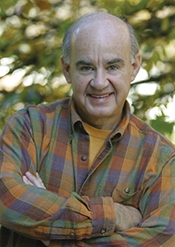 Bruce E. Beans is a long-time journalist and freelance writer/editor who focuses on healthcare, education and the environment. He has extensive experience managing projects and producing a wide range of materials, including web copy, consumer-oriented magazine articles and newsletters, brochures, annual reports, media releases and ghost-written trade magazine articles for nonprofits, health insurers, hospitals, universities and law firms.
His duties with Twist'nShout include interviewing, reporting and writing the copy for the Brandywine Health Foundation's annual community report and related web copy.
For a decade Beans was also the editor and writer for a newsletter and other publications of the New Jersey Endangered and Nongame Species Program and the Conserve Wildlife Foundation of NJ (CWF). He still writes for CWF, and has authored and/or edited two books on the environment. He is the author of Eagle's Plume: The Struggle to Preserve the Life and Haunts of America's Bald Eagle (Scribner, 1996; University of Nebraska Press, 1997) and the co-editor of Endangered and Threatened Wildlife of New Jersey (Rutgers University Press, 2003).
He also authored Riverton Country Club: A Resilient Refuge, the 107-year history of a South Jersey golf and country club.
A graduate of LaSalle University's English program, Beans served as a writer and editor at the Daily Intelligencer in Doylestown, Pa., and was the federal and city courts reporter for the Philadelphia Journal. He also has worked or written for the two major Philadelphia daily newspapers, The Philadelphia Inquirer and Philadelphia Daily News, as well as the now-defunct Philadelphia Bulletin.
His journalism work also has appeared in The New York Times, Washington Post, Times of London, Reader's Digest, Audubon magazine, Philadelphia magazine, New Jersey Monthly, and Atlantic City magazine; the Sunday magazines of The Washington Post, Philadelphia Inquirer, Atlanta Journal-Constitution, Cleveland Plain Dealer, Orlando Sentinel and San Jose Mercury News; and the magazines of the Pan-American Health Organization and the American Psychological Association.