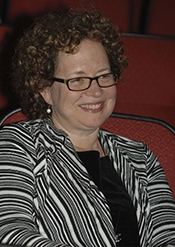 Clear expectations and focused communication between the creative team and the client are hallmarks of Gari's copywriting. She works in all aspects of marketing and communications and sees time and energy as the key human resources that bring projects to successful fruition. Gari measures success on the finished product and budget, and also on the pleasant efficiency of the process.
Gari's managerial, event and copywriting communication work has benefited Wolf Performing Arts Center and The Hiway Theater. Jewish communal clients include Mishkan Shalom Synagogue, Gratz College, the Narberth Havurah, Temple Beth Sholom and Beth Sholom Congregation.
She recently added fundraising to her portfolio, raising $7 million for Beth Sholom Congregation. Young actors with Wolf Performing Arts Center traveled to Prague to perform in Terezin Concentration Camp, due to Gari's targeted scholarship fundraising. The Hiway Screen Saver campaign allowed the Hiway Theater to purchase a digital projector and remains among the most fun projects she has brought to TwistnShout.
Gari is also a personal life coach and empowers entrepreneurs to mindfully frame achievable objectives and set realistic deadlines as part of their marketing strategy.