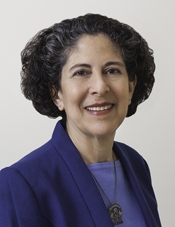 Simha Rosenberg specializes in working with smaller nonprofits, social entrepreneurs, and professional practioners. She gets their challenges and can help them expand their following, reframe the conversation in their field, have an impact on public policy, and change communities for good. Simha is experienced in brand clarification, marketing strategy, copy writing, and managing a range of web development and other digital projects.
Before becoming a marketing consultant, Simha worked for over 30 years across a broad range of established and progressive nonprofits. Highlights included developing a transitional residence for homeless senior adults, exposing a network of fraudulent reproductive health clinics, directing multimillion dollar allocation programs for HIV/AIDS care, managing a bi-national exchange to improve Israel's system of services for children and youth at risk, and being the founding executive director of a clearinghouse for over 60 full-time, hands on volunteer programs in the U.S. and overseas.
Simha is a graduate of Columbia University Business School's Institute for Nonprofit Management and has training in digital design software. In addition to being a bit of a marketing wonk, Simha is also an ardent amateur photographer, with a particular love for macro shots.